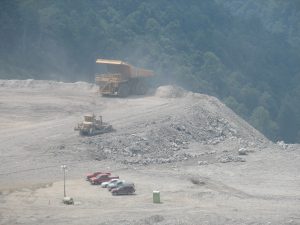 Update: Meeting Two of "Potential Human Health Effects of Surface Coal Mining Operations in Central Appalachia" will take place Tuesday, May 23 at the Chief Logan Lodge, Hotel and Conference Center, 1000 Conference Center Drive, Logan, WV 25601
Town Hall Forum: 6:30 p.m.
6:30 p.m. Town Hall Forum
As part of a study examining the potential relationship between health risks and living near surface coal mining or reclamation sites, the National Academies will hold a town hall to gain insights and information from people living in the surrounding communities. The National Academies study committee invites community members to attend and share their perspectives on this topic. The focus of the study is people living near coal-mining areas rather than on occupational health of coal mine workers.
Opportunities to speak to the committee (3 minutes each) will be reserved at a first-come, first-serve basis. Please show up early to get your place in line!
More information on the study can be found here: http://www8.nationalacademies.org/cp/projectview.aspx?key=49846
9:00 p.m. Town Hall Forum Adjourns
If you need some help to get to this meeting, or for lodging, e-mail us right away! Contact info@ohvec.org ASAP.
You can also send in comments here. There will be meetings in other states this summer.
There is a panel session" earlier in the day, but the deadline to register for that has passed.  
—–
In early August of 2016, the Charleston Gazette reported that an "expert team being appointed by the National Academy of Sciences will examine a 'growing amount of academic research' that suggests 'possible correlations' between increased public health risks for Appalachian residents and living near mountaintop removal coal mining."
In an action alert that month we noted: "The committee of experts undertaking this study is to hold four town hall meetings to gather information from folks like us about mountaintop removal's health impacts. The locations and dates for these meetings have not yet been announced. Stay tuned."
You can sign up for updates from the committee here.  Please come out for this meeting and tell the story of mountaintop removal's impacts on your health!
Background info here.
Info from NAS:
Statement of Task
An ad hoc committee of the National Academies of Sciences, Engineering, and Medicine will conduct a study to examine the potential relationship between increased health risks and living in proximity to sites that have been or are being mined or reclaimed for surface coal deposits. The study will focus on four states in Central Appalachia. In particular, the study will:
1. Identify and briefly describe the main types of coal deposits in Central Appalachia that are extracted using surface mining techniques. Descriptions will include geologic and geochemical characteristics, mining and reclamation operations, and waste management approaches.
2. Summarize the state and federal regulatory frameworks for surface coal mining operations, including coal preparation plants and the associated coarse coal refuse facilities and slurry impoundments.
3. Systematically search and screen literature to identify relevant scientific publications on the potential human health effects related to surface coal mining operations. The committee will use the selected literature to accomplish the following:
a. Identify effects from surface coal mining operations on air, surface water, ground-water, and drinking water quality and on ecologic communities and soil that could potentially lead to human health concerns.
b. Evaluate the potential for short-term and long-term human health effects, which will include consideration of potential exposure pathways and relevant environmental contaminants and other stressors.
c. Assess the scientific and methodologic quality, rigor, and sufficiency of the scientific research.
4. Identify baseline data and approaches necessary to monitor environmental and human health indicators that may be affected by surface coal mining operations.
5. Identify gaps in research and needs for additional research that may assist in the development of new approaches to safeguard the health of residents living near these types of coal mining operations.
As this study is focused on human health effects for those living in close proximity to surface coal mine operations, the committee will not consider the occupational health aspects of workers at these mines.